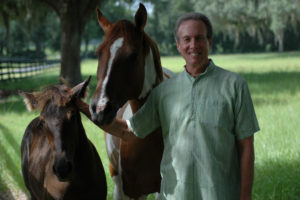 Hidden Valley Equine Sanctuary & Therapy Center
Although I embarked on the path of sobriety 30 years ago, over the past twelve years, animals have played an important role in my own recovery, personal growth and spiritual development. They have given me unconditional love, and touched my heart, in such an intense manner that I was finally able to experience profound healing on deep and buried emotional levels. We have dogs, ducks, geese and horses at our Hidden Valley Sanctuary in North Carolina. All have their unique healing abilities, but it is the rescue horses that can read and respond to the non-verbal messages we are always sending. They respond by becoming our partner, children, dreams, fears, even addictions in a dynamic 3 dimensional way. Horses respond with unique insight into exactly who we are in the moment. They are profound gifted reflectors on our true selves.
You cannot fool a horse!
Through the years we have had many volunteers, mostly young boys and girls. Most brought their fears of being bullied, some anger due to parents divorcing, or their personal boundary issues with them to the Sanctuary. Every single time we would see the horses give them strength, self-confidence, and joy. These horses performed miracles, without anybody seeing how, or why, they did.
We have now begun working with EAGALA Equine-Assisted Psychotherapy and Personal Development to allow us to change many more lives.
Please contact us at 828-395-2437 or write us at P.O. Box 263 Rutherfordton, NC 28139
If you would like further information about Equine Assisted Therapy
"I have had many "talk therapies" in my life, but this was totally different and very powerful – I could step away from my usual intellectualizing and just be, and maybe it was this that enabled me to gain so much insight, and to really 'cut through' stuff. This therapy has really changed things for me. I have noticed less fear and more inner stability." Client after six one-hour EAGALA sessions.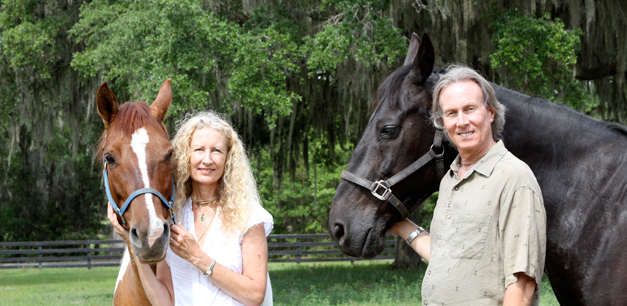 Howard and Jennifer Beckman moved from New Mexico to Ocala, Florida (known as the Horse Capital of the World) in 2009, a time when many in the US were facing unexpected hardships and difficult financial times. This soon began to show among the equestrian community in Ocala. "Many horses were being abandoned and left to starve, so we would take hay to them until the authorities could find out who owned them, or talk to owners that were known, to see what could be done to remedy the situation, (if anything)", said Howard.
After an extreme case where their efforts resulted in saving 4 buffalo and 7 horses left to starve (several of the young buffalo had simply dropped dead due to starvation, and the last is what alerted them when they saw from a distance vultures picking over its dead body), they decided to add their voices to the cause of equine rescue. That was when they decided to use their own farm to rescue abused, forgotten and frightened horses. At that instant "Ocala Equine Rescue" was born. They have rescued old, tired and worn out racehorses that have given their lives to owners who have profited handsomely from them during their best years. Unfortunately their loyalty and service to those owners was repaid with a decision to send them to the slaughterhouse when they were no longer profitable for them. Howard and Jennifer have rescued foals just before they were to be "put down", simply because they were not perfect or simply didn't fit their owners' or trainers' expectations. Bloodlines are of no importance when horses finally crossed the gate into the Beckman's Ocala farm. Not only were they are all treated with the same care and respect, but most importantly of all, with love.
The gentle and loving manner they possess seems to have a way with all animals. Both tell of always having been able to "communicate" with them, developing relationships with many, especially during their years living in New Mexico.
Jennifer is a yoga teacher and practitioner of the natural healing science of Ayurveda. Howard is a writer and expert in the sciences of Vedic astronomy and astrology, as well as healing with sound and color. He has authored several books on these subjects, and both are prolific writers in the form of articles on these and other related subjects.
Their universal philosophy that all sentient living beings are connected, are conscious, aware of themselves and others, and are capable of forming strong bonds and relationships, inspired them to found and develop Ocala Equine Rescue. "Horses feel emotional and physical pain, as well as have the ability to give and receive love", said Howard & Jennifer.
All animals have special, unique ways of communicating, but a horse's ability to do so far surpasses most others. They have an innate emotional nature that has been proven to have phenomenal healing effects on both adults and children, touching them on a deep, emotional and "psychological" level. Horses are so extremely sensitive that they perceive our very "vibrations".
Seeing that such regal, noble and truly "conscious" beings were being abused, tortured and finally slaughtered was a reality too stark for the Beckmans to simply stand by without trying to do something to save at least some of them from such a fate. Their lives and those of the horses they rescued are now inextricably entwined, for when a horse entered Ocala Equine Rescue, they had truly found their "forever home".
Hidden Valley Equine Sanctuary and Therapy Center
Rutherfordton, North Carolina
Howard and Jennifer Beckman have recently purchased a 35 acre property in Rutherfordton, NC and in the autumn of 2017 "Hidden Valley Equine Sanctuary and Therapy Center" will be open to the public. They will offer equine assisted psychotherapy, counseling, and personal development as well as equine yoga training. The facility will be Eagala certified (The Equine Assisted Growth and learning Association) Check back frequently for more information on our opening and sign up for our newsletter for news of that and upcoming programs.
You Can Help! Buy A Book Today!